Détails

Écrit par BOURLAT Jean Christophe
Création : 22 octobre 2019
Le Mans is the host and only round the Superkart FIA-Karting European Championship in a new format on October 26th & 27th.

Indeed, since the late 80's and the existence of a World Championship taking place during an exceptional event, an international title FIA-CIK was no longer issued in Superkart on an event unique as it was formerly the case at Le Mans Newness, three races are on the program but only the two best results will be counted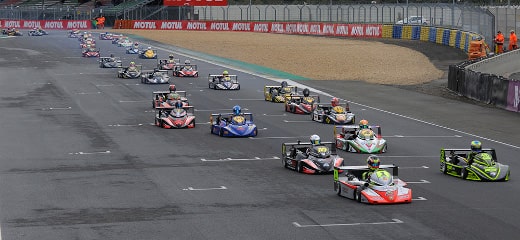 Some early warning signs suggested a significant participation (French Championship relaunched, GP Assen receiving a record number of competitors...). Thus 33 engaged with a majority of French and including 4 previous champions will fight. On a single weekend, no favorite is immune to a problem, a poor choice of set-up or to suffer weather conditions, so many uncertainties that should motivate all drivers, building on either the performance or the regularity and animate the last race. It is difficult to deduce who could benefit from this new format:
- Either the supposed favorites who led the season, foremost among which is the German P. Elkmann (Anderson / VM), triple champion (2018, 2017, 2008), who dominates the last seasons (French Champion for the 5th time). It remains the logical favorite. Among the contenders of this group, his compatriot Andreas Jost (Anderson / VM) who overflowed him at Assen in the first race and has often approached his times and the British Liam Morley (Anderson / VM), vice-champion 2017, that had refocused on his land last year but who has often managed Le Mans with several podiums.
- Either less diligent favorites at the various 2019 events that play all on this unique event with real chances in based on their experience and a particularly prepared equipment. Among them the Czech Adam Kout (MSkart / DEA) European champion 2015 & 2016 who has always given the replica to Elkmann or Emmanuel Vinuales (MSkart / VM) who has regained the ambition to win back again a title. Finally, another British is expected at the forefront, Lee Harpham (MSkart / VM) titled in 2012 who has never abandoned the Superkart but making a comeback in Division 1.
- The outsiders should be also considered: Among the British, the experienced C.Hulme (Anderson / VM) and J.Dredge (Anderson / PVP) are likely to interfere in a fast group, but they are now be accompanied by the young Thomas Rushforth who has made some fantastic moves up at Assen. Among the large French colony Alexandre Sebastia (MSkart / DEA) has a peak speed known to all. It should also be noted the entry of a quasi-rookie, the driver of KZ, Nelson Bondier (MSkart / VM) impatient to confront the best after stormed a double podium at Dijon. Among the Dutch, Marcel Maasmann (Anderson /VM), who is not really on form at home this year, will wish regain a top five he has regularly obtained. The fiery Leo Kurstjens is to watch.
The previous record of E.Vinuales (1'33''120 '' ') was beaten by Adam Kout claiming pole position 2019 (1'32''820' ''). In the race, conditions were less favorable, Kout settled for a better lap in 1'34''201'''.
The Live and results to follow on Mediasuperkart.com.
Information also on www.facebook.com/Mediasuperkart