Détails

Écrit par BOURLAT Jean Christophe
Création : 13 avril 2019
The FFSA French Championship of Superkart kicks off at Magny- Cours on April 20th & 21st. After a year's absence, the discipline returns to the traditional Nivernais circuit at a similar date to the previous race in 2017. This season the Championship, always international, focuses on three events only, each score acquired will have to as much more importance.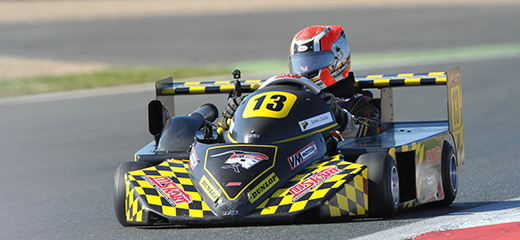 The grid is substantial and should offer good fights. Indeed at least 23 competitors are expected with more than a third competitors coming from abroad. A regulatory novelty seems to convince new entrants, so a Gentleman ranking (45 years and over) has been introduced. This seduced a former Champion of France, the British Steve Edwards retry again the adventure of the Superkart; 20 years after his title.
Favourites : Peter Elkmann (Anderson/VM) is the logical favourite. Quadruple France Champion (2014 - 2017) and triple European Champion (ongoing series), indefatigable about technical skills, he is also the last winner at Magny-Cours with a double victory and the best lap time clocked up. Particularity, it will carry the sign E (European) for replacement of the traditional number. He leaves the n°1 to the defending Champion, his compatriot Andreas Jost (Anderson/VM) who will want to confirm its rise in power, now that it displays a regularity that allows his 'burst of speed' to express itself. It is the result of a proven reliability that has brought him an extra confidence.
Three French are expected to fight for the podium : Alexandre Sebastia (Anderson/DEA), the most faithful of the Championship. Regularly at the forefront, he remains the last Champion of French nationality (2013). He finished better francophone last year (3rd overall). Julien Goullancourt (Anderson/VM), vice-champion in 2015 and 2016, 3rd in 2017, unfortunately had to give up early last year. He resumes without pressure but must accommodate with a motorization he discovers. Emmanuel Vinuales (MSkart/VM) is finally back for a full season. The former triple European Champion (2011/2013-2014) made his "comeback" actually at the end of 2018 and he claimed 4 podiums in 5 races run, including the European final at Le Mans.
Probable contenders for the top placings : We can rely on the Dutch Leo Kurstjens (MSkart/VM), gradually becoming a spoilsport. In the last two seasons, he has finished 4th in the overall standings, twice. Although in the same team (Karting Paradise), Colombian Jaime Zuleta often challenges his rank. Jason Dredge (Anderson/PVP) sparks curiosity, it is indeed his first participation in the French Championship. The Brit is a regular at the British and European Championships, he has the potential to interfere. A certain renewal of the entries has occurred compared to last season, with some Rookies and comebacks. Among them, Christophe Grenier (KZ driver) had made a remarkable appearance at Le Mans a few years ago and has decided to join the Superkart.
Chronometric references: The pole 2017 was realized by Peter Elkmann in 1'36''576''', it is the record. In races, Elkmann had to settle his best lap time in 1'37''362'''.JC. B
The Live and the results to follow on Mediasuperkart.com Information provided also on www.facebook.com/Mediasuperkart
COORDINATEUR : Éric SÉVÈRE +33 (0) 6 75 42 68 98 Cette adresse e-mail est protégée contre les robots spammeurs. Vous devez activer le JavaScript pour la visualiser.
COMMUNICATION : Jean-Christophe BOURLAT +33(0)6 63 93 27 04 Cette adresse e-mail est protégée contre les robots spammeurs. Vous devez activer le JavaScript pour la visualiser.