The first Superkart GP in recent years, this "one-shot" event of Magny-Cours from 27 to 29 May was a real success: Indeed, the participation was substantial for the discipline, with combative, cheerful competitors and amazing "Rookies". This international competition - outside the Championship - received 27 candidates with
equipment better prepared, in particular by the independents. In addition, the friendly spirit of the paddock allowed mutual aid and the weather was earlyheat of summer.
The event was dominated by Julien Goullancourt (Anderson/DEA), the 2022 French Champion, who scored a hat-trick. If the final trio of this GP is hardly surprising, many competitors proved to be swift in one or the other of the races but they also alternated with some mechanical glitches. Goullancourt was already setting the tone during qualifying with a not very fast but uncontested pole (1'41'' 160''') ahead of the Dutchman Richard Van de Nes (Anderson/VM) the revelation of Lédenon and the Briton Andrew Gulliford (Anderson/VM), glimpsed twice in 2022 and reputed to be one of the best performers at home. Jaime Zuleta (MSkart / VM) took place in front of Johan
Lamalle (MSkart / VM). Cyril Vayssié (MSkart / VM) back in Superkart after a long absence seemed to be in the game, but when starting off from a spin, he was harpooned, damaging hischassis and his steering.
In race 1: Great start from Zuleta who goes up to Goullancourt but Sven Van de Wardt (MSkart/ VM) overtakes them from outside line. Van de Nes let himself be trapped. On the first lap Gulliford preceded him and we discovered one of the Rookies Paul Louveau (MSkart / VM) who had an excellent take-off but who will give up in the aftermath. Goullancourt takes command. He will gradually let go of his opponents. Gulliford overtook Van de Wardt who gradually gave way, Zuleta retired (gearbox). It was another Rookie, Wout Kurstjens (MSkart/VM) who distinguished himself until he took 4th position. After halfway, another newcomer more accustomed to KZ appeared in the peloton, Adrien Girard (MSkart/VM) who found his marks and progressed with the seasoned Ingvar Bjerge (Anderson/VM). At the end of the race, Goullancourt (1'39''482''') could manage with 20 seconds ahead of Gulliford himself detached from Van de Wardt. Van de Nes finished strong (despite his brakes pb) and caught up with Wout Kurstjens (subsequently disqualified for weight) and Van de Wardt. Further, rolls Girard who passed the duo composed of the young Belgian Jonathan Dhaese (PVP/DEA) and Eric Confalioneri (Anderson/DEA).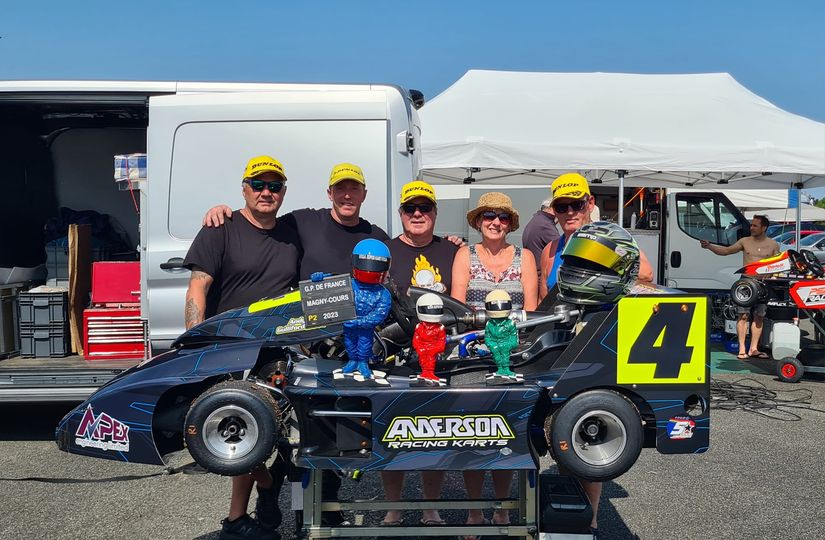 Race 2: Goullancourt keeps the advantage, Van de Nes this time get off to a great start but now his spark plug wire comes off. He tries to put it back, loses 14 places in the operation and then begins a remarkable recovery. Behind Van de Wardt (3rd) slips Louveau author of a formidable start and imitating him comes Girard then Confalioneri. However, the rookies lack engine power while Lamalle (7th) is already emerging and C. Vayssié, who has finally adjusted his front nose, begins a magnificent progression. Halfway through the race, the leader escaped, Gulliford let go of Van de Wardt. Behind Louveau (4th), Lamalle is catching up with the pursuers. Confalioneri, Girard and already Vayssié follow. The southerner guy has fun, he regains his feelings and overtakes his opponents one by one, to the point of finally claiming the podium. Indeed, Van de Wardt stops (broken exhaust). The youngest competitor W. Kurstjens finished bolted his way down, still 7th 3 laps from the flag, he overtook his opponents and took 4th place ahead of Lamalle and Van de Nes.
Race 3: We find the favorites at the forefront, Goullancourt in the lead but Gulliford will follow him closely for a long time. Van de Nes overtakes Van de Wardt mid-term who will have to give up shortly after (bucket-seat). Following Vayssié, Dhaese, Zuleta who solved his box problem, Bjerge and the pack. Louveau well underway, begins to weak with lack of power, Girard more cautious seem more irregular at the start but their destinies meet on the 7th lap. At the end of the race, Vayssié parks (gearbox) joined by Ranoarimanana (idem) Girard can progress. Gulliford,
who had let go of the leader, was joined by Van de Nes. This latter observes it and passes it without firing a shot (9th lap). Dhaese finished on an encouraging note at the foot of the podium, ahead of Zuleta and Girard.
In addition to the irresistible winner, the podium of the GP (aggregate of the 3 races) brought together Gulliford (2), Van de Nes (3) and the female Judith Van der Linde.
Next "rendez-vous" in July (7, 8 & 9) for the most beautiful exhibition of the year for the
Superkart (in France) with an exceptional and very mediatic showcase during the French Circuits Championship (GT4 / TCR/ Porsche Cup / Caterham, etc.) at Le Vigeant whose operator is SRO (Stéphane Ratel Organization). These are the same teams that race in the European Championship (gt4series.com). Indeed, the Superkart replaces... the F4 academy for this event !
Don't miss it
Jean-Christophe Bourlat
Race 1 : 1. Julien Goullancourt, 2. A. Gulliford, 3. S. Van de Wardt, 4. R. Van de Nes, 5. A.
Girard, 6. J. Dhaese, etc.
Race 2 : 1. J. Goullancourt, 2. A. Gulliford, 3. C. Vayssié, 4. W. Kurstjens, 5. J. Lamalle, 6.R. Van
de Nes, etc.
Race 3 : 1.J.Goullancourt, 2. R.Van de Nes, 3. A. Gulliford, 4. J.Dhaese, 5. J.Zuleta, 6.A.Girard,
etc.
Superkart GP of France : 1 J. Goullancourt, 2. A. Gulliford, 3. R. Van de Nes. 4.J. Dhaese, 5. A.
Girard, 6.P. Louveau, etc.